Oct 05, 2017
Ten-Year-Old Gamer Always Has a Smile on His Face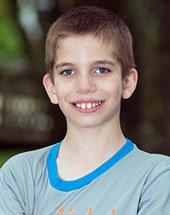 Joseph is a ten-year-old boy. Joseph can always be found with a smile on his face and a positive attitude. Joseph states he enjoys math and reading. He loves playing with Legos, watching television, playing Angry Birds and other video games, and eating. Joseph is described as an affectionate child and well-mannered. He is currently enrolled in the 5th grade. Joseph says he enjoys meeting new people and teaching others how to play games on the tablet. Joseph hopes his forever family will include a mom and a dad who will be supportive of his interest and needs.
For additional information about Joseph or other children in need of adoption, call the Louisiana Department of Children and Family Services at 1(800) 259-3428. If you are interested in providing a safe and stable home for a child who needs one, please call today or visit www.dcfs.louisiana.gov.