Newsroom
Outgoing Athlete Dreams of Playing Professional Football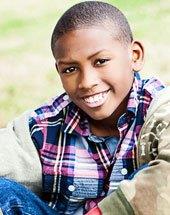 Aramis, age 14, is an athletic little boy. He loves playing football both at school and at the neighborhood park. He aspires one day to be a professional football player in the National Football League (NFL). One of his favorite teams is the New Orleans Saints. Aramis also enjoys doing tricks on his bicycle. He is outgoing and takes pride in his ability to make friends easily.

Aramis is very close to his fifteen-year-old sister, and they share a special bond. When they are able to be together, she acts as her brother's caregiver and is always making sure her little brother is happy. In turn, Aramis is very protective of his big sister. When they are able to be together, he stands ready to give her advice on who is deserving of her friendship.
For additional information about Aramis or other children in need of adoption, call the Louisiana Department of Children and Family Services at 1(800) 259-3428. If you are interested in providing a safe and stable home for a child who needs one, please call today or visit www.dcfs.louisiana.gov.