Newsroom
History Buff Has an Active Imagination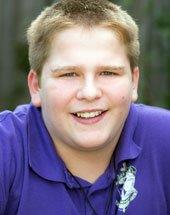 Dale is a 15 year old history buff. "I like the Roman Empire. I don't know. It must be the Italian in me, I'm guessing," he shares. Dale is very creative and has an active imagination. He has been known to create imaginative worlds and illustrate these in stories.

There's no guessing for Dale when it comes to the kind of family he'd like to be a part of. His goals are simple and pretty reasonable. He wants a family who would provide him with love, care, a roof over his head, and other basic needs. Dale adds, "And if I want something else, that I can actually have, they would give it to me unless they can't afford it or something."

This 10th grader has an older brother in care and would like to keep in touch with him, even when he finds his own forever family.

Like any teenage boy, Dale has quite a few hobbies. He enjoys video games, reading, and art, and he's also a pretty good swimmer, so he'd like to be on a swim team someday. He says all he needs is the right family to get him started.
For additional information about Dale or other children in need of adoption, call the Louisiana Department of Children and Family Services at 1(800) 259-3428. If you are interested in providing a safe and stable home for a child who needs one, please call today or visit www.dcfs.louisiana.gov.