Louisiana Wildfires Resources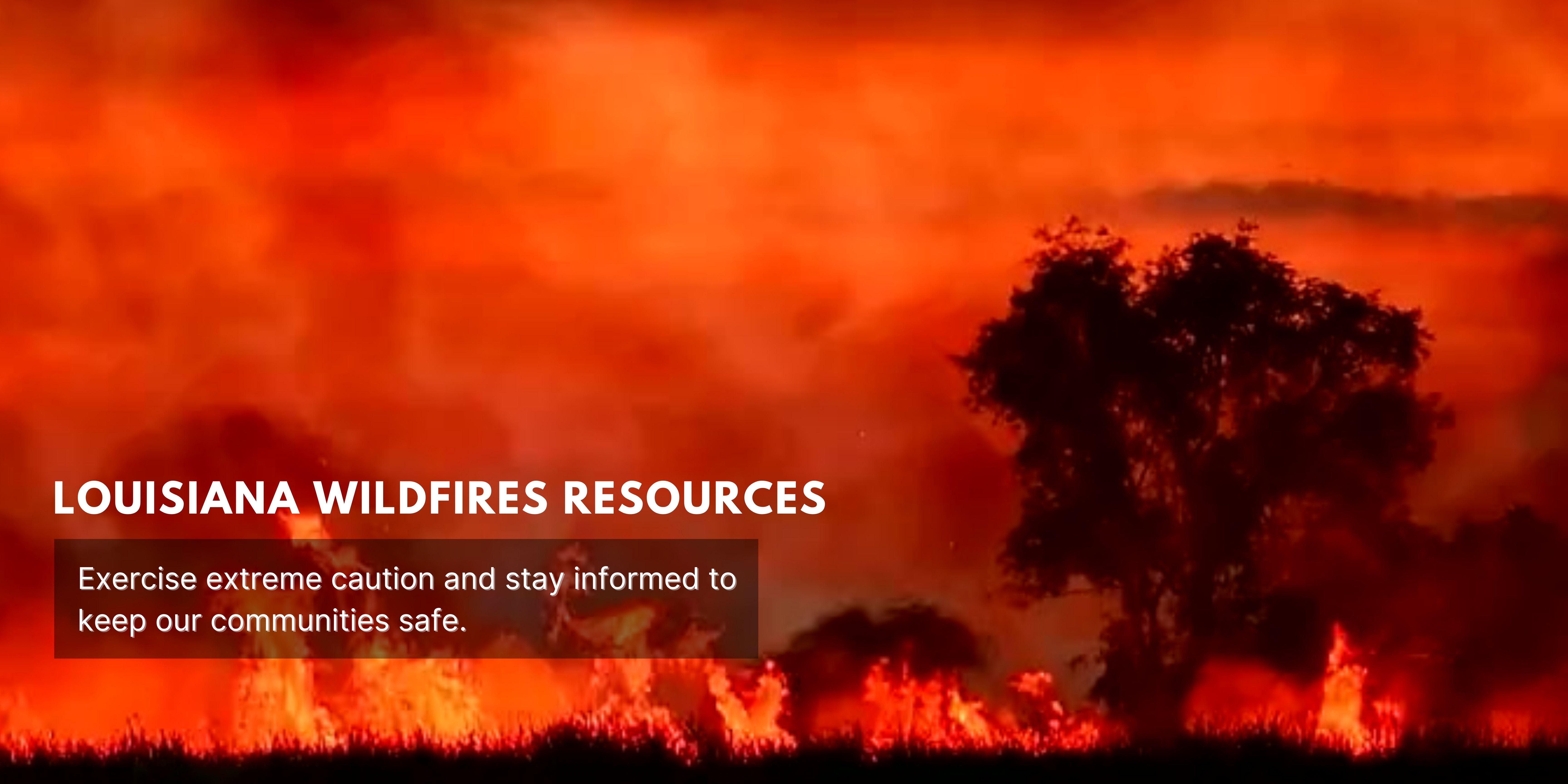 The Louisiana State Fire Marshal and the Louisiana Department of Agriculture (LDAF) have issued a state-wide burn ban due to the drought and extreme heat conditions plaguing the state. With wildfires burning in parts of the state, Governor John Bel Edwards has declared a state of emergency. Officials are warning the public that even normal activities can trigger a fire. Everyone is urged to be vigilant to help minimize potential fire risks.
With wildfires and ongoing drought conditions threatening the state, Gov. John Bel Edwards has conducted numerous Unified Command Group Meetings with state and local officials and is asking that Louisianans adhere to the statewide burn ban. Learn more.
The AirNow Fire and Smoke Map provides information that you can use to help protect your health from wildfire smoke. The Map is a collaborative effort between the U.S. Forest Service (USFS)-led Interagency Wildland Fire Air Quality Response Program and the U.S. Environmental Protection Agency (EPA).
Use the Wildfire Aware link to view active wildfires across the state. The app opens with the list of fires sorted by the number of personnel assigned from greatest to least as reported by incident staff.
If you lost food that you bought with your SNAP benefits because of a flood, fire, power outage, or other disaster, we may be able to replace your SNAP benefits. To request replacement of SNAP benefits, you must:
• Report the loss within 10 days of the food loss.
• Complete this form and submit it to DCFS within 10 days after you report the loss of food.
• Provide the Dollar ($) amount of the food loss.
---
Safety Tips During a Severe Heat Burn Ban
No Open Flames: Do not light campfires, bonfires, or any open flames. Even small sparks can lead to a major fire.

Discard Cigarettes Properly: Ensure that cigarettes are completely extinguished before discarding. Never toss them out of a vehicle or onto the ground.

No Grilling Allowed: Due to the high risk, grilling is strictly prohibited during the burn ban. Any kind of open flame can quickly spread.

Maintain Machinery: Ensure lawnmowers, chainsaws, and other equipment have a spark arrestor and are in good working condition.

Secure Trailer Chains: Make sure chains on trailers don't drag on the ground and spark.

Avoid Parking on Dry Grass: Hot equipment or vehicle parts can ignite dry grass. Always be cautious where you park.

Report Fires Immediately: If you spot a fire, report it immediately to local authorities. Early detection can save lives and property.

Prepare Your Home: Clear leaves and other debris from gutters, porches, and decks. This prevents embers from igniting your home. Regularly water your plants and trees.

Stay Updated: Regularly monitor local news and weather channels for updates on fire dangers and any changes in the burn ban status.

Educate and Share: Make others aware of the fire safety guidelines. The more people are informed, the safer our communities will be.
Grilling and any activity involving open flames are especially dangerous during severe heat and burn bans. Always prioritize community safety.